Introduction
A LAB dedicated team for marine and landbased applications with more than 20 years' experience in SCR Technology offers reliable and cost-effective SCR Systems, designed for the strictest clean gas values.
LAB Marine DeNOx Systems have an optimized and compact design

for compliance with Tier III within the current and upcoming NECA zones
LAB Landbased DeNOx are specially designed for each engine application with tailor made engineering and catalyst in-house know-how.
LAB Aftersales Department is in charge of the commissioning, training, installation supervision as well as maintenance and service.
LAB SCR Systems are suitable for a large operation range of engine type and size as well as most fuels.
Marine DeNOx
The Marine SCR deNOx systems are produced with a compact and reliable design, a low pressure drop and in compliance with Tier III regulations. They are approved by all current classes.
The production of the SCR components is done with dedicated qualified sub-suppliers, which allow a fast commissioning as a result of extensive FAT tests.
To assist you with scheme A certification and provide complete Scheme B certification from the design approval over the test bench until the on-board test correspond to the expertise of LAB.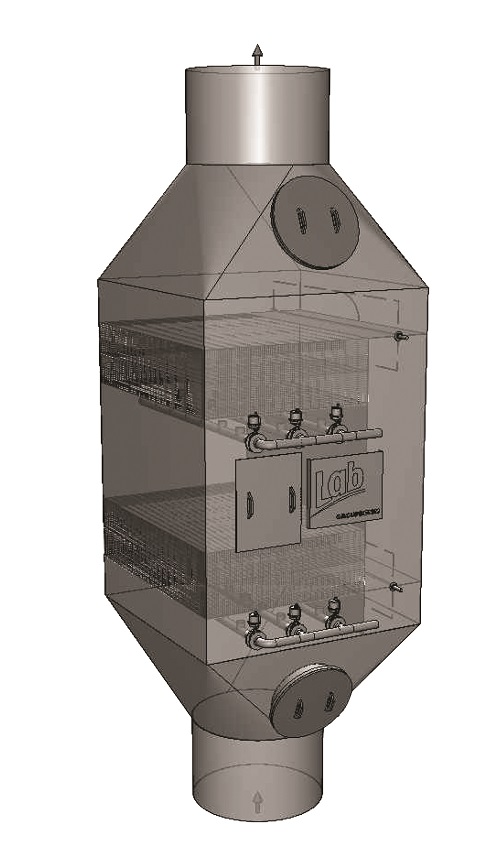 Landbased DeNOx
The landbased SCR  deNOx systems are specially designed for strictest clean-gas values for NOx, HC, CO and PM emissions and with low ammonia slip.
The systems are suitable for
any type of fuel (gas, HFO, LFO, bio-oil, etc),

any type or size of engine from 500 kW to 70 MW

and a large range of reducing agents like ammonia solution, ammonia gas, urea solution or urea granulates.
Project specific and extended delivery scope for landbased engine application can be designed and delivered like tanks, urea preparation units, etc.
Thanks to high-quality long-life design and materials, the maintenance work is highly reduced and combined with the SCR catalyst replacement strategy, costs and performance will be optimized.